Welcome to Christ Presbyterian Parish!
This is the day the Lord has made, let us rejoice and be glad in it!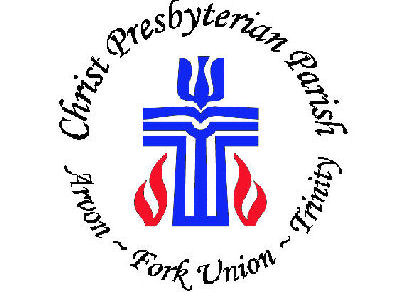 Mailing Address: PO Box 464 * Fork Union , VA * 23055-0464

Email: ChristParish@kinex.net




Christ Presbyterian Parish PC(USA) is comprised of three neighboring churches: Arvon, located in Arvonia, Virginia, Trinity, located in New Canton and the Presbyterian Church at Fork Union. We worship at each church on a rotating schedule; services are held at Arvon Church on the first and third Sundays of each month, Fork Union Church on the second and fourth Sundays, and for those months with a fifth Sunday, we worship at Trinity~New Canton. All Sunday services are 11:00 am.

Although we meet in three different locations, we see ourselves as one congregation, governed by one Tri-Session that meets monthly.

We offer you many opportunities for worship, fellowship and service.

We come to worship each Sunday morning from all walks of life and from many different backgrounds. Some of us may be happy, some sad, some in mourning or in pain, some thankful, some in fear, some in doubt, some seeking answers and some simply from a sense of tradition. No matter your circumstances or background, you are welcome here. We believe the church is the perfect place for imperfect people! Please join us!

We invite you to join us in worship each Sunday morning.

We are a Presbyterian Parish, and we follow the essential tenets of the Reformed Tradition. and "The Five Solas"

Through the reading, study, preaching and hearing of the Word, coupled with song and Sacrament, we meet together each Sunday morning to offer our praise and thanks to the Triune God; the Father, the Son and the Holy Spirit.
Join Us Each Month for Food, Fun and Fellowship!
The first Sunday of each month is Fellowship Sunday at Arvon Presbyterian Church. We invite you to join us for breakfast at 9:30 am. We encourage you to "bring a friend" on Fellowship Sunday and warmly welcome anyone who may be visiting!
"Here there are no strangers, just friends we haven't met yet!"


We Worship Together...


On the first through fourth Sunday mornings each month, when we worship in Arvon or Fork Union, we have Sunday School for both children and adults, beginning at 10:00 am. There is no Sunday School on the fifth Sundays at Trinity~New Canton. We also offer a special worship experience called "Jesus Time" for our younger members each Sunday during the Worship Service.
We share the Sacrament of the Lord's Supper quarterly or otherwise as determined by the Session. We offer Communion on World Communion Sunday, Maundy Thursday and Christmas Eve, as well.
For those to whom God speaks through the music of the church, we have a choir that is open to all who enjoy singing God's praise and assisting in leading the worship service. Special choir programs are held during the year to reflect the church calendar.
Study and fellowship are in vain if they do not shape our behavior. We believe that God has called us to be of service to others.
We support several missions and missionaries within the United States and throughout the world.
We support many local charities and missions, both through the efforts of individual members and the church as a whole. We work with charitable organizations that provide services to those living in Fluvanna, Buckingham and nearby areas of Cumberland Counties.
When ever possible, we attempt to respond to the specific needs of those in our church family during difficult times. This assistance can take many forms, but is always done with respect, care, love and prayer.
The small, family oriented nature of our congregation allows each individual a unique opportunity to utilize their time and talents in ways to serve our Lord, the congregation and the church at large.
We invite you to join with us in fellowship as we worship, study and serve our Lord Jesus Christ together!
And all God's people said, "Amen!

"


Web d

e

sign by PoppyJoe